06/06/2022
What Is Ecommerce Enabler & How Can They Help Your Business?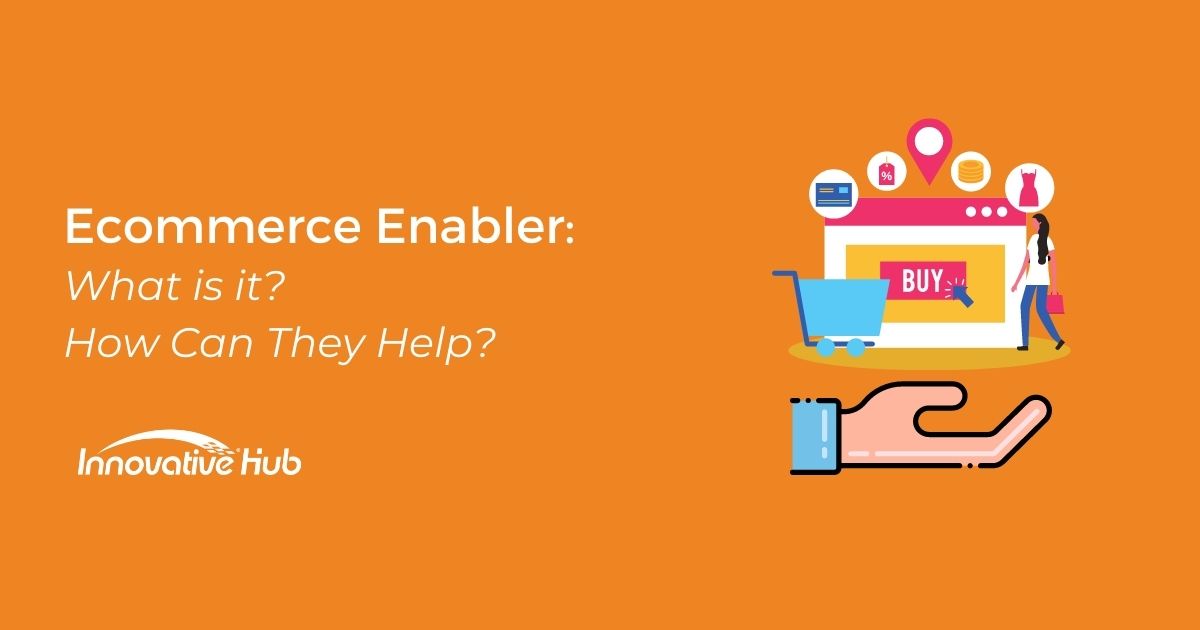 innovativehub
---
If you are looking to join the ecommerce space, find out what is ecommerce enabler and how can one help your business.
As the internet continues to be an integral part of our lives, many retailers have started selling their products online to increase their sales, and establish digital presence for their brands in hopes to stay ahead of their competitors. Particularly in recent years during the pandemic, restrictions around the world made a detrimental impact to the retail industry, forcing many businesses to turn to ecommerce as an alternative sales channel. Many managed to stay afloat, and some thrived in the digital space. As the ecommerce business continues to grow, demand for ecommerce enablers continues to increase as well.
What Is An Ecommerce Enabler?
What is ecommerce enabler? Simply put, an ecommerce enabler is a B2B service that provides consultation and end-to-end operational support to clients in selling their products digitally. For businesses new to ecommerce, an ecommerce enabler will assist in setting up the client's online store on marketplaces such as Alibaba and Lazada. On the marketplace channel itself, an ecommerce enabler manages the day-to-day activities of a client's online store, from managing orderings, tracking deliveries to providing customer service on behalf of the client. Outside of the marketplace, a full-service ecommerce enabler, such as Innovative Hub, typically offers comprehensive one-stop solutions that lead to driving more sales of the client's products on the marketplaces. These solutions include search engine optimisation for clients' websites, digital and social media management, and developing digital marketing strategies.
In the Southeast Asian region, many brands currently engage with ecommerce enablers to support sales and operations of their marketplace stores in strong developing markets like Singapore, Malaysia and Vietnam. These brands include both B2B and B2C businesses, from international brands like Samsung and Unilever, to local startups and SMEs.
How Can Ecommerce Enablers Help Your Business?
Brand Consultation
When it comes to managing an ecommerce store, ecommerce enablers possess both the expertise and experience to do that successfully. They are equipped with knowledge and insights on best practices that lead to running a successful ecommerce store. Therefore, ecommerce enablers can provide effective entry strategies for your brand to be successful. 
Marketplace Store & Product Management
There are many tedious tasks that need to be executed well to ensure that a marketplace store is operating efficiently and generating sales. These include setting up the online store, management of product listings, running promotional campaigns, managing orders across multiple marketplaces, as well as gathering and reporting of insights, such as customer feedback. 
These tasks are the bread and butter for ecommerce enablers, who deal with them on a day-to-day basis. Therefore, ecommerce enablers are a great source of support for your brand's daily marketplace operations and to boost sales, enabling you to focus on other important facets of the business.
Customer Services
Providing a good customer experience is an integral aspect in converting store visitors and prospective customers to actual purchasers. It is also crucial in retaining purchasers and eventually turning them into loyal customers. As traffic and demand from a brand's online store increases, it is difficult to respond to every enquiry or feedback timely without a dedicated resource. 
Ecommerce enablers provide just the solution for that. Our experienced customer service team can support in responding to all of your customers timely and maintain a great customer relationship experience.
Content Localisation
Are you considering expanding your brand to another country? If so, an ecommerce enabler with a strong ability to localise your brand into the target market will greatly benefit your business and ease your expansion efforts. On top of just translating your product copies to the local language, localising your brand also encompasses tasks like market research of the local culture, and customising your brand and products' marketing collaterals to appeal to the local crowd. 
For example, for a brand originating from Singapore that wants to enter the Vietnam market, the brand has to adapt to the local culture, such as language, price, the consumers' way of life, and product preferences. Engaging ecommerce enablers with the ability to localise content for foreign markets, like Innovative Hub, helps businesses create a stronger brand image and drive sales in the target market.
Digital Marketing and Advertising
In this day and age, digital marketing plays a key role for any successful business. It is even more important for an online business, as digital marketing bridges the gap of physical experience that online businesses are unable to provide. In ecommerce, effective digital marketing strategies revolve around driving traffic to your online store, and eventually converting them to sales. 
Ecommerce enablers that provide one-stop solutions typically provide digital marketing services as they have the ability to utilise the right strategies to drive traffic and boost sales to your store, so you do not have to spend more time figuring it out on your own. The experts in this field can not only run effective digital campaigns in the marketplace, but also outside the marketplace, such as social media platforms.
Conclusion
As more businesses turn to the ecommerce space, there is an increase in the demand for ecommerce enablers. Ecommerce enablers typically provide end-to-end solutions to help businesses set up their online stores and manage their daily operations. Engaging ecommerce enablers to support your online business can be seen as a less expensive solution to quickly develop your brand presence and generate sales in digital platforms. With the comprehensive solutions that ecommerce enablers like Innovative Hub provide, we enable business owners to focus on other important aspects of the business. 
If you are keen to find out more, feel free to contact us today!